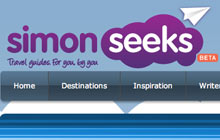 A new travel site launches today, Simonseeks.com, which hopes to provide user-generated travel advice with a twist. The brainchild of moneysupermarket.com founder Simon Nixon, the guide will encourage users to share their tips with the community by offering them a cut of clickthrough revenue – the commissions received on flight, holiday and hotel bookings that originate from the site – and display revenue from advertising.
Simonseeks enters a crowded user-generated content (UGC) market – dominated by longstanding forerunners Tripadvisor and Virtual Tourist – with lofty ambitions, aiming to establish itself as one of the top 10 travel websites in the UK within its first year.
Nixon, who founded moneysupermarket.com 10 years ago and is reported to have made over £100m when the company was floated in 2007, hopes to create a cottage industry of travel writers. "I am confident that within a year of launch, we will see professional simonseekers who have been able to give up their day job and earn an income from their travel writing."
In preparation for today's launch, the site has been pre-populated with more than 1,000 reviews written by an assortment of established travel writers and celebrities, including Sir Cliff Richards' guide to the Algarve and Barbados, and Raymond Blanc's guide to the South of France.
[Source: The Guardian]