Celebrations of art, music, culture or religion – from Cinco de Mayo in Mexico to Koninginnedag in Netherlands; from Vappu in Helsinki to Thrissur Pooram in India; from Bun Festival in Hong Kong to Roskilde in Denmark, these celebrations bring people together to enjoy the festivities, understand cultures and make friends.
Here's a list of some of the festivals and events occurring in the summer of 2009 around the world.
Also read A guide to the world's best music festivals [CNN]

La Feria de Abril (April Fair)
What: Seville's best party with traditional dress, parades, dancing and wild parties in a gorgeous environment.
When: April 28 – May 3
Where: Seville, Spain
---
Koninginnedag (Queens Day)
What: Amsterdam Orange Festival [Queens Day], Netherlands, for lovers of the colour orange, beer and dope, this is a massive street and canal-boat dance party, starting the night before. Click here to know more
When: April 30
Where: Amsterdam, Netherlands
---
Helsinki Vappu
What: A lively May Day celebration, particularly for students of alcoholic excess.
When: 30 April – 1 May
Where: Helsinki Vappu, Finland
---
Cheltenham International Jazz Festival
What: the UK's top jazz fest in a lovely location
When: April 28 – May 4
Where: Gloucestershire, England
---
Vienna Festival
What: this 5 week event offers a wide range of arts, especially music, naturally, but also dance and theatre, sometimes challenging pieces, all set in magnificent buildings.
When: May 1- June 30
Where: Vienna, Austria
---
Bun Festival
What: Yes, real, edible buns treated with enormous pomp in this fishing island, huge bun towers, bun parades and something to eat too.
When: May 2
Where: Cheung Chau Island, Hong Kong
---
White Nights Arts Festival
What: the White Nights arts festival in gorgeous, romantic and endlessly light St Pete. Primarily opera and ballet.
When: May 10 – July 27
Where: St Petersburg, Russia
---
Thrissur Pooram
What: A day of fireworks, raucous music and fantastically decorated elephants continues way into the night during this, the biggest festival in Kerala.
When: May 4 2009 & April 24 2010
Where: Thrissur, Kerala, India
---
Cinco de Mayo
What: The glorious battle of Puelbla [1862] is celebrated with mock military dress, parades and mock battles in the main square of lovely Puebla.
When: May 5
Where: Puebla, just north of Mexico City, Mexico
---
Waisak Festival
What: The world's largest Buddhist structure. A quiet but stunningly spiritual event with acres of saffron-robed monks praying under the full moon at the incredible Borobudur.
When: May 9
Where: Borobudur temple, Indonesia
---
Rocket Festival [Bung Fai]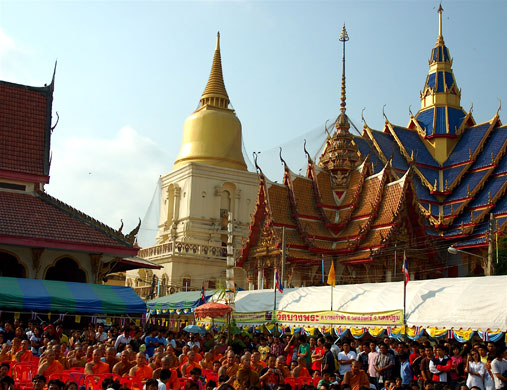 What: Crazed rocket builders compete – with total disregard for safety – for the highest flier.
When: mid May
Where: Yasothon [NE Thai], Thailand
---
Spring International Music Festival
What: one of Europe's best musical events, a must-see.
When: May 12 – June 3
Where: Prague, Czech Republic
---
Cannes International Film Festival
What: the world's most glamorous film festival, every year.
When: May 13 – 24
Where: Cannes, France
---
Sanja Matsuri
What: crowded processions of elaborate mini-shrines are vigorously carried around the streets near Tokyo's venerable Asakusa shrine, well fuelled by saké and beer.
When: May 15-17
Where: Tokyo, Japan
---
Sennin Gyoretsu
What: a massive parade of samurai-dressed folk and dancers around a supremely beautiful shrine in a gorgeous country town of hot springs and waterfalls.
When: May 18
Where: Nikko, Japan
---
Chaumont Garden Festival
What: 30 wonderful and sometimes wacky show gardens around a perfect chateau [castle], every year.
When: May 15 – Oct 19
Where: France
---
Oslo Constitution Day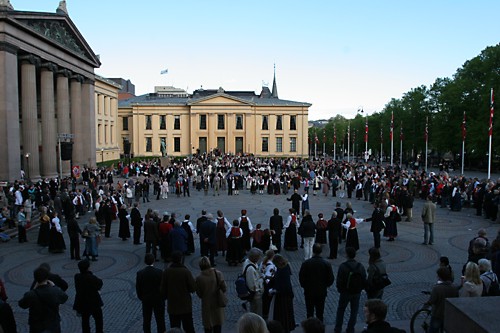 What: celebrates independence from Denmark, with folk music, parades, entertainment and people in traditional costumes.
When: May 17
Where: Norway
Oslo to Bergen Travel Guide
---
Chelsea Flower Show
What: 11 acres of the UK's [and arguably Europe's] best flowers and gardens event, with plenty of original, even wacky ideas.
When: May 19 – 27
Where: London, U.K.
---
Somerset Bath International Music Festival
What: classical and other musical styles in this, the most classical of all UK cities.
When: May 21 – June 7
Where: England, U.K.
---
Cooper's Hill Cheese Rolling
What: dozens of borderline bonkers men fling themselves down a precipitous hill attempting to catch huge rounds of cheese. It's illegal and bones get broken, so a remarkable sight in this nanny state of England.
When: 31 May
Where: Brockworth, near Gloucester, England
---
Famadihana
What: 'turning the bones' – reburying the dead ceremonies, interesting but independent travel required.
When: June – November
Where: Madagascar
---
Festival of Sacred Music
What: a huge variety of weird sounds from around the world, Sufi chants though Egyptian odes to whirling dervishes, but not excluding musicians from developed countries.
When: June 6-14
Where: Fez [Fes], Morocco
---
Festival de Musique de Strasbourg
What: an international contemporary music festival.
When: June 6 -26
Where: France
---
Athens Festival
What: drama, dance and music in the 2,000 year old outdoor Odeion theatre at the base of Acropolis Hill. Location, location.
When: June – July
Where: Athens, Greece
---
Dragon Boat Festival [Tuen Ng]
What: Spectacularly decorated boats loaded with rowers and drums race.
When: June 8
Where: Hong Kong & China
---
Zurich Festival
What: international artists perform drama, music, opera.
When: June 19 – July 12
Where: Zurich, Switzerland
---
Wiltshire Stonehenge Summer Solstice  
What: midsummer night ritual with all sorts of druids, hippies and new age wackos. Fascinating, especially if the weather is good!
When: June 21
Where: England
---
Lesbian and Gay Street Festival and Christopher Street Day
What: the monster Gay Pride parade and street party.
When: June 21-22, 27
Where: Berlin, Germany
---
Roskilde Festival
What is it: Roskilde Festival is the largest North European culture and music festival and has existed since 1971.
When: July 2 – July 5 (warm-up June 28 – July 1)
Where: Roskilde, Denmark
Website: www.roskilde-festival.dk/uk/
Tickets:
Including warm-up – DKK 1785 (+ fee)
Including Get A Tent Small & warm up – DKK 2325 (+ fee)
Including Get A Tent Large & warm up – DKK 2800 (+ fee)
Click here to book online